Pansonic Air to Water Heat Pumps
The Panasonic Aquarea air to water heat pump offers homeowner comfort, efficiency and low energy costs while being clean, safe and environmentally friendly. With more than 60 years of experience, selling to more than 120 countries around the world, Panasonic is unquestionably one of the leaders in the heating and cooling sector.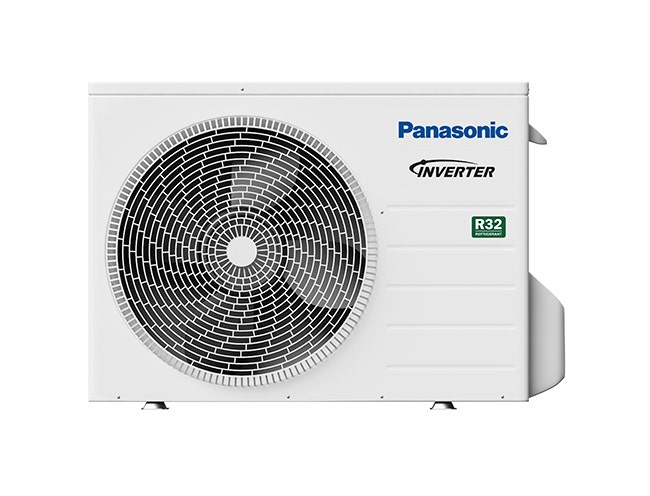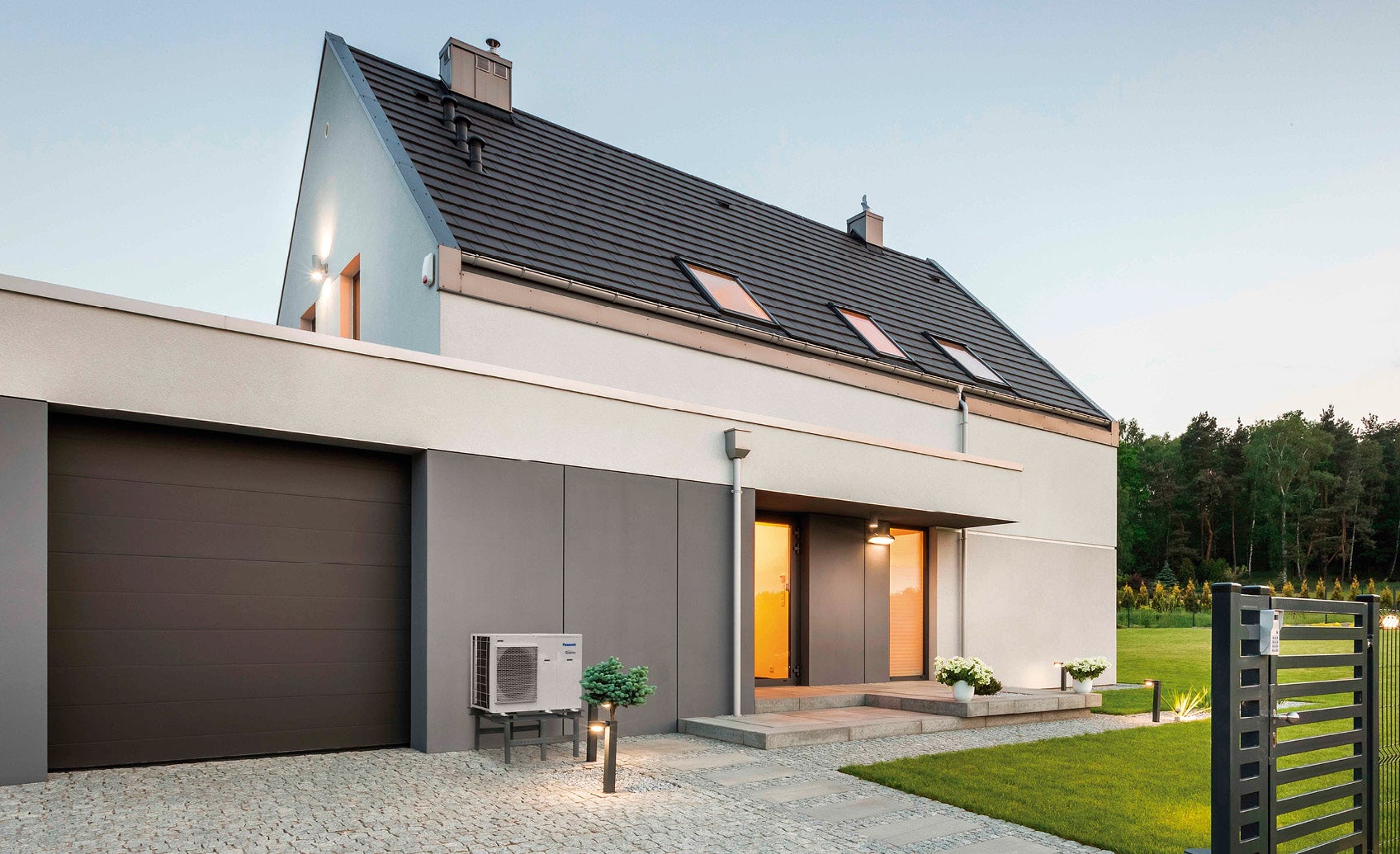 Panasonic air to water heat pumps are innovative low-energy systems, designed to provide ideal temperatures and hot water in the home, even with extreme outdoor temperatures or for retrofit projects where a higher water output temperature is required.
Based on air to water heat pump technology, Aquarea is highly efficient and environmentally friendly. It captures heat energy from the ambient air and transfers it to heat the water needed to warm your home, for domestic hot water and even to cool the house if required. In this way, up to 80% of the heat energy required is taken from the ambient air - even in extremely low temperatures.
Key Features
Extremely high efficiency with a COP of up to 5.33*
ErP efficiency rating

A++ for medium temperature applications (radiators ErP 55°C)
A++ for low temperature applications (floor heating ErP 35°C)
3 & 5kW High Performance models are A+++

Smart Cloud facilities easy and powerful remote control, monitoring and energy management (using an optional interface)
Large range of efficient tanks for domestic hot water storage
Highly reliable thanks to the quality of all components, including the compressor, which are developed and manufactured by Panasonic
All Aquarea heat pumps can also be connected to a solar thermal or PV system to further increase efficiency
Easy installation - air source heat pumps are simple to install. They do not require a chimney, gas connection, oil or LPG tank. All that is required is a power supply connection
Smart Bivalent operation will combine different heat sources and use the most appropriate source, depending on the user's preferences and efficiency
Cascade operation possible for larger installations
*COP (Coefficient of Performance) refers to the ratio of energy used by the Heat Pump to the energy input into the water, for example, a unit with a COP of 5.08 or 500% will supply 5 kilowatts of energy into the water for every 1 kilowatt of electrical power it consumes. In order to maintain this efficiency heat pumps operate at lower temperatures.
Aquarea Heat Pump Models
The Aquarea offers three different alternative technical solutions depending on the property requirements and each is available in a range of outputs ensuring there is a solution to meet any requirement. Our technical team will advise on the best option for each specific property and will size it accordingly.
Aquarea High Performance - For new installations and low consumption homes
Aquarea T-CAP - For extremely low temperatures, refurbishment and innovation
Aquarea HT - For a house with old high-temperature radiators
The DHW Stand Alone is a domestic Hot Water tank with built-in heat pump which is also available as a solution where heating water exclusively is required.
Heat Pump Formats
The heat pump's outdoor unit extracts heat energy from the air and transfers this to the refrigerant in the system which is then compressed to raise the temperature. This heat from the raised temperature refrigerant is transferred via a heat exchanger to the heating or hot water depending on requirements. This transfer can be completed within the outdoor unit in Mono-Bloc systems or in the case of a Bi Bloc or All in One system refrigerant pipe connects to an indoor unit and the transfer of heat to water is completed in the indoor unit.
A Mono-Bloc air to water heat pump consists of a single outside unit that contains a heat exchanger and compressor. In this Mono-Bloc unit the heat is extracted from the air, and transferred to the refrigerant, the refrigerant is then compressed up to a higher temperature and the heat from the refrigerant is passed to the water that circulates to and from the heating and hot water system inside the house. This is ideal when space inside the house is restricted.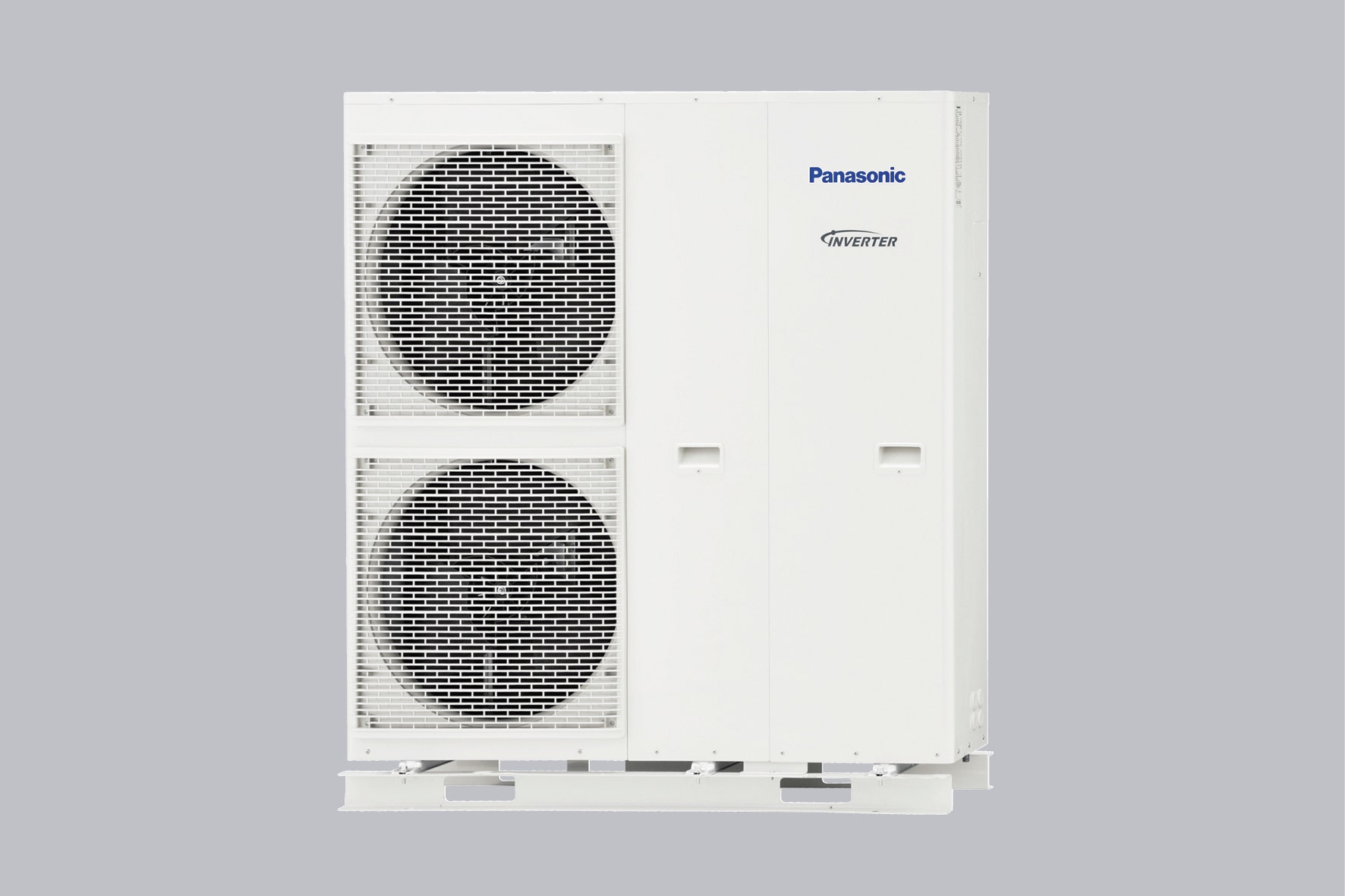 A Bi-Bloc or split is a two part air to water heat pump which consists of an outdoor unit, with heat exchanger, fan unit and compressor connected by refrigerant pipe to an indoor unit, with heat exchanger. The outdoor unit extracts the heat from the air and passes this heat energy to the refrigerant in the system. The refrigerant is compressed up to a high temperature and is circulated to the indoor unit which has a heat exchanger that takes the high temperature heat from the refrigerant and passes it to the water that circulates to the heating and hot water system. Installation requires a refrigerant engineer.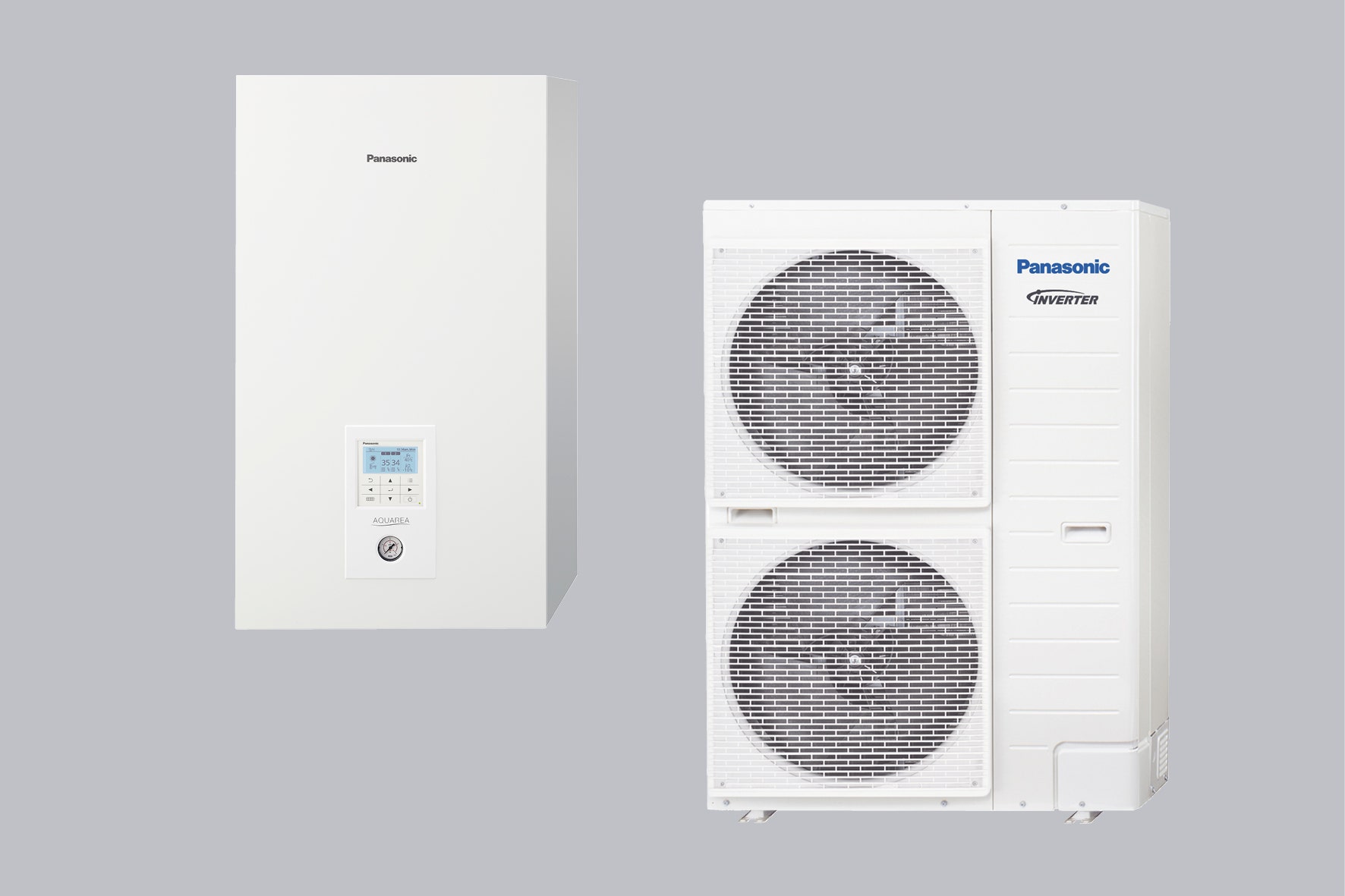 Ideal for small spaces, this system combines the indoor unit with a compact 185-litre stainless steel domestic hot water storage tank. Based on the Bi-Bloc model the outdoor unit is connected to the indoor All in One unit using piping charged with refrigerant.
The indoor unit has an improved square design with white goods finish that is designed to be compact and save space. It is also designed to be easy to install and maintain with easy access piping and electrical connections. It comes with an integrated remote control which can be installed up to 50m from the indoor unit and can function as a room thermostat.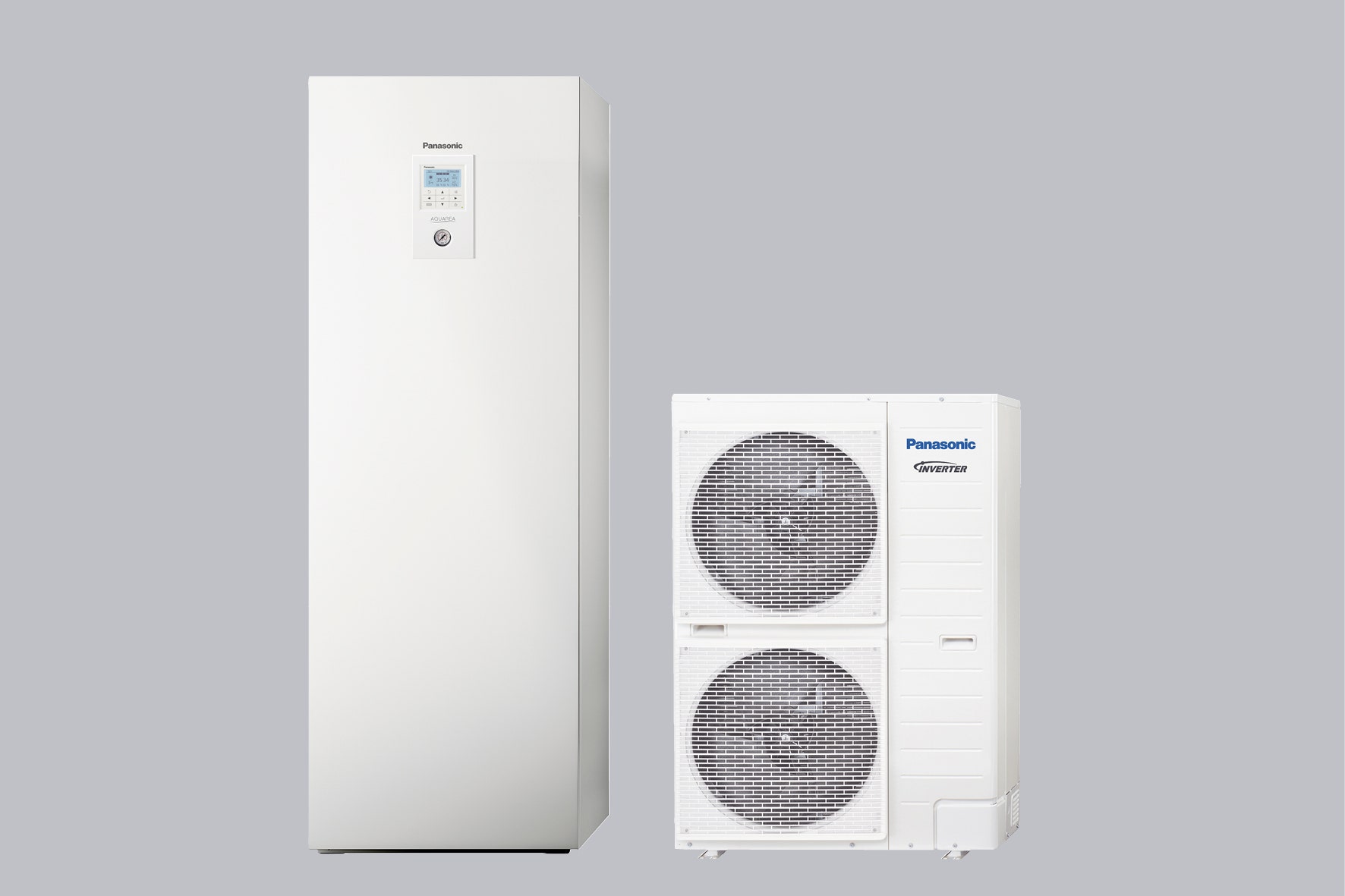 Panasonic Aquarea Smart Cloud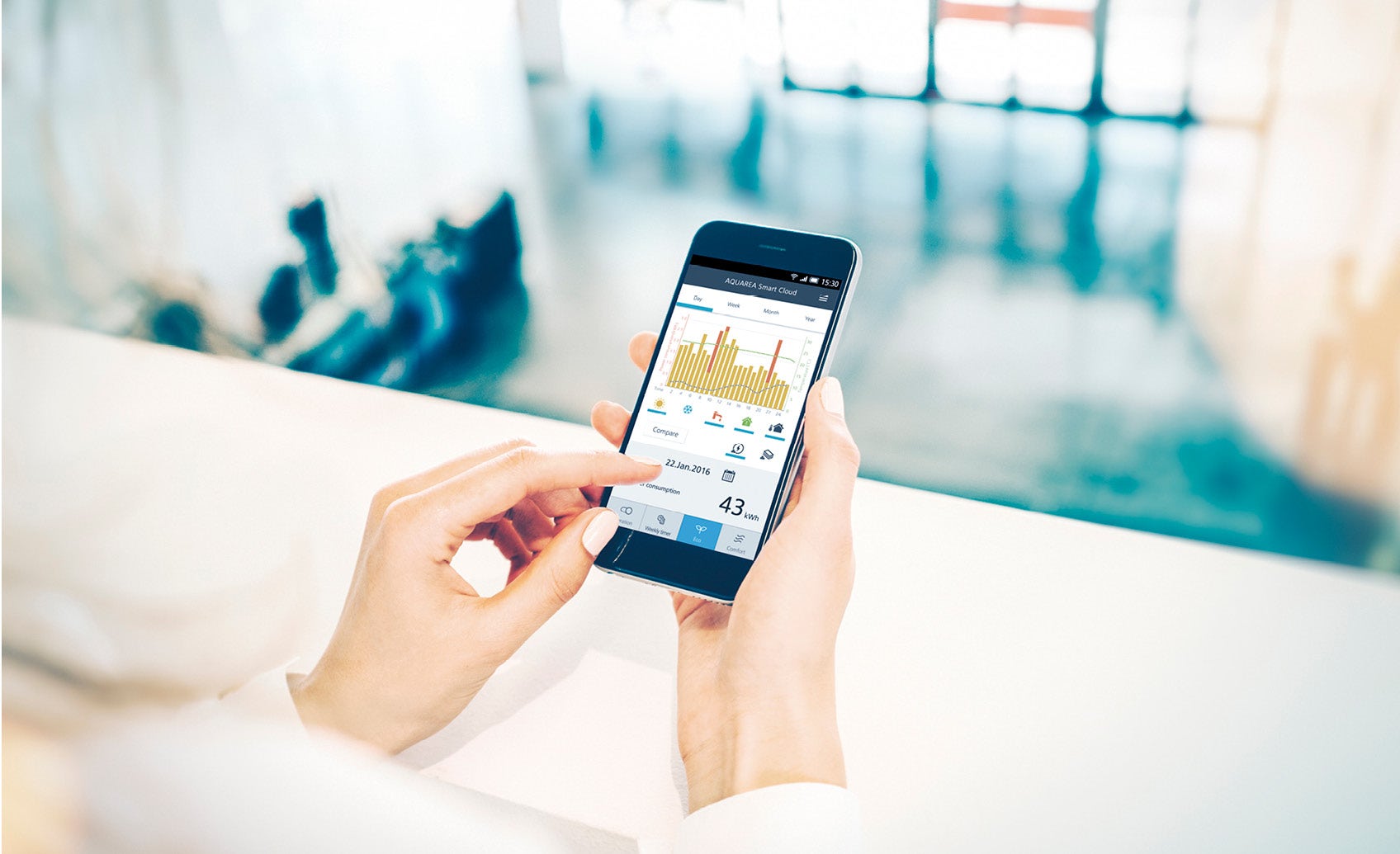 The Aquarea Smart Cloud from Panasonic facilitates easy and powerful remote control, monitoring and energy management from anywhere in the world.
The Aquarea Smart Cloud is much more than a simple thermostat for switching a heating device on or off via the internet. It is a powerful and intuitive service for remotely controlling the full range of heating and hot water functions, including monitoring energy consumption. It is a way to enhance your Aquarea, making it even smarter to maximise your comfort and minimise your energy bills and CO2 emissions.
*Available for H-generation models and later
Smart Cloud Functions
Energy savings and comfort from anywhere
Increase efficiency and resources management, operating costs savings and comfort
Internet connection with router Wifi or wired LAN
Easy to adjust temperature
Up to 2 different zones and hot water
Easy to use weekly timer by zone and hot water
Holiday mode activation
Intuitive and powerful energy statistics
Operation history log
Professional Monitoring and Maintenance
The Smart Cloud will save you time and money by facilitating
remote monitoring and maintenance by our Service Engineers or your installer. The homeowner control and permit access via the app as required.
Remote malfunction notification
Remote monitoring and service enabled
Identify if an engineer needs to call and if parts are required
System fine tuning to ensure optimal performance
Performance efficiency reviews
Advanced failure prediction
Preventative maintenance scheduling
Let us know if you interested in finding our more about the Panasonic Aquarea air to water heat pumps or would like to sign up for installer training.