Panasonic Aquarea Controller
Pat Smith, National Renewable Sales Manager has put together some easy to follow short videos to help homeowners with a new Panasonic H Series Air to Water Heat Pump understand and adjust their settings using the Panasonic remote controller.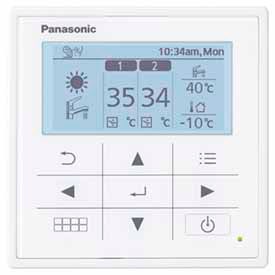 Pansonic Aquarea H Series Heat Pump Controller
We have created two easy to follow video guides for homeowner on how to operate the remote controller to adjust your heating and hot water.
Homeowners should not adjust the settings on the heat pump itself as these have been adjusted to optiumum settings during commissioning by the Panasonic certified commissioning team.
If you have any queries or would like to find out more about the Panasonic Heat Pump range please contact out Customer Support Centre on 090 6442300.
Panasonic Air to Water Heat Pump - Control - User Function Explained