Underfloor Heating
In addition to providing all the components for underfloor heating systems the Heat Merchants technical design team can provide complete system design and specification for any new build or retrofit residential project.
Installers can contact your local branch to find out more or request a design or contact us and we will be in touch.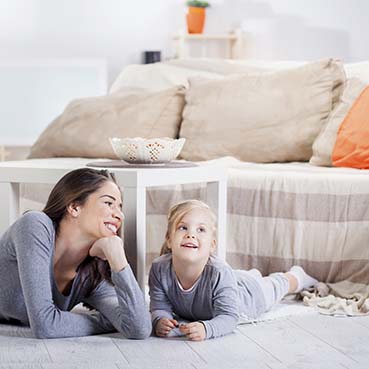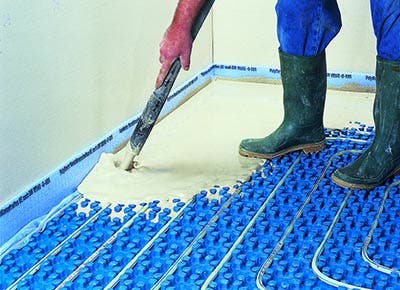 Underfloor heating operates at lower flow temperatures than traditional radiators, making it a highly efficient heating system component to pair with an air to water heat pump.
Underfloor heating is ideal for use in new build, renovation and in extensions and will provide residents with a high level comfort while also keeping wall space free of radiators.
We also offer a variety of options for controling your underfloor heating system from basic thermostats to the latest in smart heating controls for for completely connected control and monitoring from anywhere in the world.
Heating System Design

Our Technical Services team of engineers have full professional indemnity insurance and can provide you with a complete design for heating, plumbing and mechanical ventilation in any new domestic building. Designs can utilise any heat source from high efficiency gas or oil boilers, air to water heat pumps and feature mechanical ventilation, underfloor heating, radiators and a variety of heating system controls.
We will work with installers or contractors to assess any project requirements and suggest solutions and deliver a comprehensive bespoke technical design to include full schematics and drawings, and product specification which will be in accordance with current building regulations and best practices. We also offer commissioning, ancillary certification and technical support plus installer training across our product range.
The design team will offer expert guidance and advice to assist when planning heating and hot water systems to ensure a high level of comfort and energy efficiency and can recommend different options according to your needs and your budget.
Heating System Controls
Heating controls provide a range of options to control heating systems and can range from basic entry level controls to higher specification controls with remote control and monitoring. The factors to consider is the level of control required, efficicncy of the system and the relative cost of the different options.
Entry Level Controls

A low cost solution with a minimal level of control
- No actuators required as the manifolds are controlled by the motorised valves
- Rooms can not be zoned
- The entire zone temperature is determined by the room thermostat location
- Temperature control only
- No temperature display
Intermediate Level
UH 8 Wiring Centre With Analogue Stats
Intermediate level controls allow each area to be zoned with an analogue stat
- Actuators required on each zone of the manifold
- 230v power only
- Temperature control only
- LCD temperature display on thermostat
High Level Controls
UH 8 Wiring Centre With "Slimline" Stats
- Areas can be zoned
- Digital programmable stat
- Actuators required on each zone of the manifold
- Time and temperature control
- 230v power only
- Digital display with LCD backlit screen
- Flexible programming
- Holiday function / Setback function
Premium Level Control
UH 8 Wiring Centre With Neo Hub and Programmable Stats
- Areas can be zoned
- Digital programmable stat
-Neo Stats installed with a Neo hub allows internet control
- Actuators required on each zone of the manifold
- Time and temperature control
- 230v and 12v power only
- Digital display with LCD backlit screen
- Touch-pad buttons
- Flexible programming
- Holiday function / Setback function